Good Times Together!
Less hassle.

More fun in Amsterdam.

Hey there!
So you're looking for a group trip to Amsterdam right?
Well, great news friend, we've been saving time, money & hassle for over 500,000 travelers since 2002. Wowza!
This itinerary has been designed by our Amsterdam specialist, but if you would like to modify anything, just give us a shout!
What's Included
2 nights 3* Hotel

Escape Game

High Ropes w/Transfers

Free Pint/ Glass of Wine

Ice Bar
From only £249 per person*
Based on group size of 10.
Stress free individual payments.
Secure today for a small £49 deposit.
Check availability
Simply fill out the enquiry form below to check dates & prices.
Book now, pay later
To book we just need a small deposit for the whole group.
It's sorted!
Easy right? Enquire today
to get started.
Friday
MEININGER HOTEL AMSTEL
Next to Amstel station
Lounge & bar
Guest kitchen
Games room
Based next to Amstel station, this trendy hotel is the ideal place to make the most of your stay in the Dutch capital. Set in an up and coming area, there are plenty of popular bars on your doorstep, while the beating heart of the city centre is just a ten-minute train journey away. The Meininger boasts a trendy lounge and bar, a games room, a guest kitchen and cool European style rooms equipped with TVs and WiFi. There's also a 24hr reception where the friendly staff will happily point you to all the best places that this funky, forward-thinking city has to offer. 
Please note:
€500 (refundable) group behaviour bond required on arrival via credit card
Multi-bed rooms unless otherwise stated
These will include bunk-beds
---
Saturday
ESCAPE GAME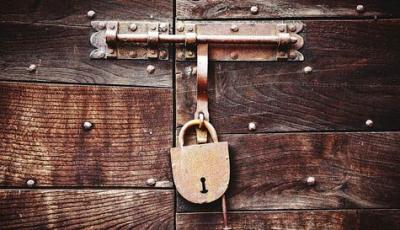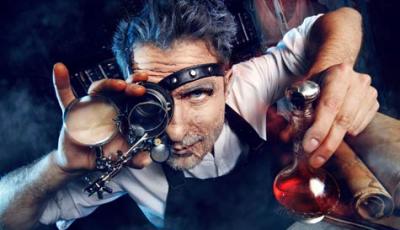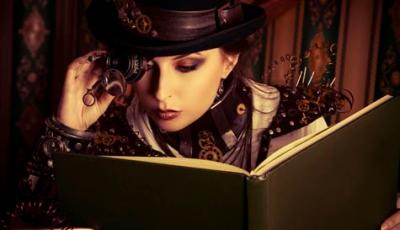 Live action adventure
Challenges, codes & puzzles
60 minutes to save mankind
Or it could be 'Game Over'
Permanently
I'm hidden in the city; I think I'm rather witty; for humans I've no pity. What am I? Time to get your brains ticking in this thrilling interactive escape game. Locked in a room with nothing but your logic and imagination to help you, you've just under sixty minutes to get outta there! Get your heads together to solve the clues, unriddle the riddles and think outside the box. Will you ever reach that priceless moment where everything falls into place? We dare you to find out.
Please note:
If you don't make it out...
We'll tell your folks you tried your best
---
HIGH ROPES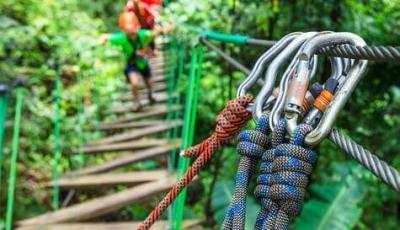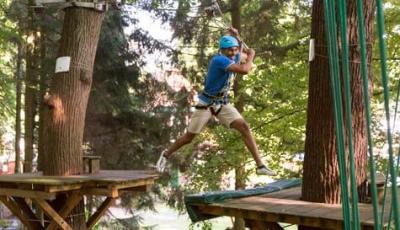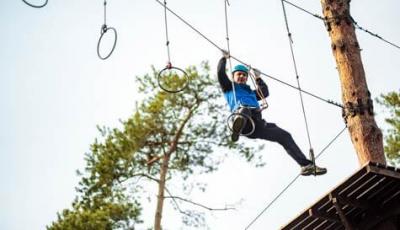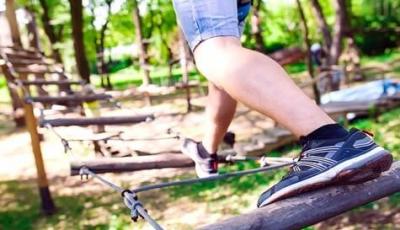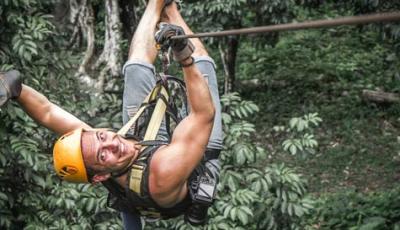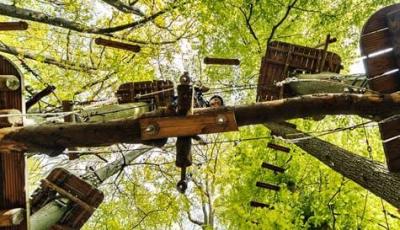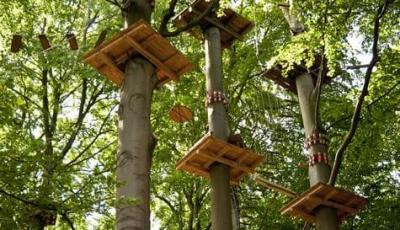 Aerial obstacle course
Zip lines & rope swings
Leap of faith & more...
Ultimate hangover cure!
'Now I'm the king of the swingers, the jungle V.I.P!'  Push yourselves to new heights as you climb, crawl and navigate your way through the treetops of Amsterdam. Your English-speaking instructors will show you the ropes (literally) and then you'll be let loose! Tackle crazy obstacles as you monkey around, swinging from tree to tree, balancing over bridges and flying down mammoth zip wires. Do you have what it takes to take on this thrilling aerial adventure? 
---
FREE PINT
Big screen sports
Popular party area
Restaurant
Enjoy a free pint at one of Amsterdam's top bars, Cocos Outback. Located on the Rembrandtplein it has a buzzing atmosphere and big-screen sports action. Cocos also has an extensive menu that's well worth checking out if you need to keep everyone well fed. A top place to start a big night out.
---
ICE BAR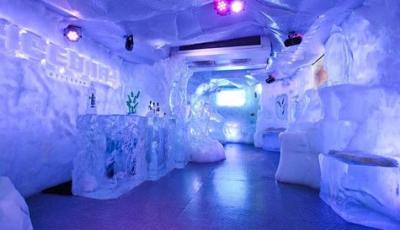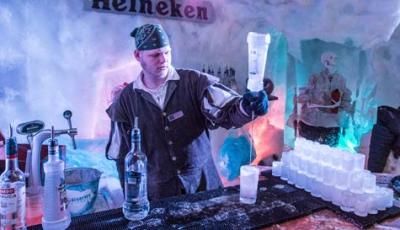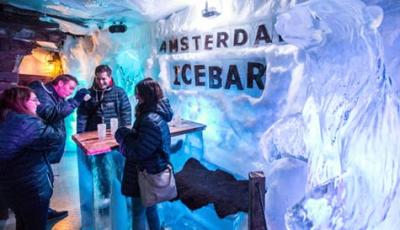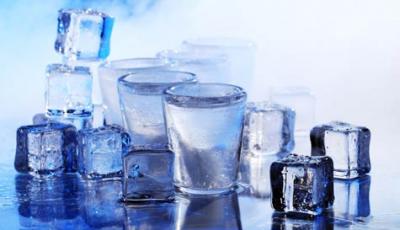 Entrance to the coolest bar
3 free drinks
Even the glasses are made of ice!
Thermal coats & gloves
English speaking guide
Well yeah, you could just head to a normal bar, but you're cooler than that. You're ice cool! Head to the freshest bar in the city and chill out (literally) in a bar that befits your coolness. This stunning, unique bar is made entirely of ice! Everything from the artwork on the walls to the stools at the bar are frozen solid. You'll get to enjoy three drinks each, from sweet, fruity cocktails to refreshing pints of Heineken. Wrap up in thermal jackets and gloves, and get ready for bevs, ice and everything nice!


---
Sunday
Head Home
After a truly memorable trip, it's time for you and the group to head home.


From only £249 per person*
You can hold this package today with a single £40 group deposit.
Enquire Now
Peter Baker
06/07/2019
Use Groupia (StagWeb). Makes the Best Mans job a dream, thank you.
Paul Parker
05/07/2019
Made it easy and convenient. Would definitely recommend to anyone planning a stag.
Kenneth Kinsella
05/07/2019
Great packages, highly recommend it. Hassle free.
Jamie Price
05/07/2019
StagWeb made planning the weekend super easy. Definitely recommend them.